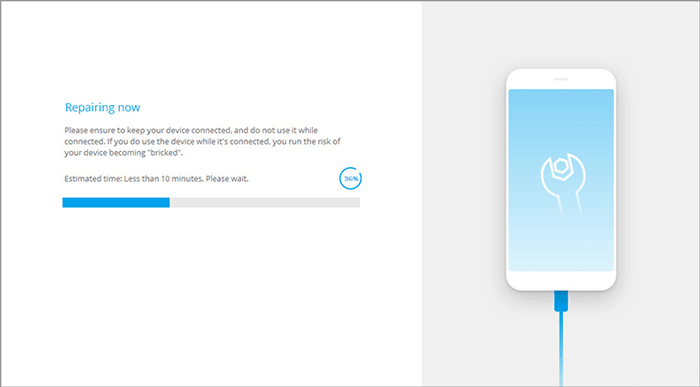 Published by Keisha Alice on May 30, 2023
As time passes, Android devices may encounter various system issues that can impact their performance. From slowdowns and unresponsive startups to application crashes and frozen screens, these problems can be frustrating. However, before you consider replacing your Android phone or tablet, there are Android phone repair software solutions available that can help restore your device to its optimal state.
In this article, we've compiled a list of the top 9 Android phone repair software tools that can assist you in resolving a wide range of Android device issues. Read on to discover the one that suits your needs best.
1. Android Repair (Recommended)
The top choice for Android phone repair software is Android Repair. This tool is highly recommended for its ability to fix various Android system issues with a high success rate. It boasts a user-friendly interface that requires no technical expertise. You can follow the on-screen instructions to repair your Android device, making it accessible even for those with minimal technical knowledge.
What Android Repair can fix:
Android black screen of death
Android won't turn off
Apps keep crashing
Google Play Store not working
Android OTA update failures
Stuck in a boot loop
Android system UI not working
Bricked Android phones or tablets, and more.
Supported devices: Android Repair supports a wide range of Samsung devices, including Galaxy S series, A series, M series, and more.
Pros:
High success rate compared to alternatives.
User-friendly and easy-to-use.
Offers clear instructions for repairing Android.
Cons:
Not compatible with all Android devices.
Download Android Repair for free on PC.
2. Phone Doctor Plus
Phone Doctor Plus serves as an Android troubleshooting software that performs a comprehensive diagnostic check on your smartphone. It detects and reports errors in the Android system quickly. This app monitors over 30 hardware items and sensors, battery and storage status, and more, helping you improve your device's performance. It also features a value appraisal function, making it valuable for those planning to sell their old phones.
Pros:
Effective in diagnosing Android device health.
User-friendly interface.
Cons:
May not fix all system problems.
Occasionally crashes or freezes the phone.
User Reviews: "I am extremely happy with the results of different functionality of my mobile."
Download Phone Doctor Plus.
3. Repair System for Android (Quick Fix Problems)
For Android devices running low on memory and experiencing slow performance, Repair System for Android is a valuable tool. This Android phone repair software optimizes your device by repairing the system, testing hardware, boosting RAM, cooling down the CPU, optimizing battery life, clearing cache and junk files, and more.
Pros:
All-in-one solution for Android device performance.
Effectively speeds up Android phones and tablets.
User-friendly interface.
Cons:
Some bugs reported after recent updates.
May not resolve all system errors.
Contains ads.
User Reviews: "This app speeds the phone up considerably."
Download Repair System for Android.
4. ReiBoot for Android
ReiBoot for Android is an Android repair software for PC designed to address Android system issues and clear Android cache. It offers one-click access to and exit from fastboot/Android recovery/download [Odin] mode without the need for physical button pressing, making it particularly useful when hardware buttons are unresponsive.
Pros:
Quick and easy solution for a wide range of system issues.
Offers some free features.
User-friendly interface.
Cons:
Limited compatibility; primarily supports Samsung devices for repairing Android systems.
User Review: "ReiBoot for Android really helped me fix this problem."
Download ReiBoot for Android on PC.
5. Greenify
Greenify is an ideal Android repair tool for users with numerous apps installed on their devices, leading to performance issues and battery drain. This app identifies misbehaving apps and hibernates them when not in use, effectively improving battery life and device performance.
Pros:
Efficient battery life saver with minimal effort.
Lightweight with low CPU and battery consumption.
Cons:
Not necessary for Android 8 and later.
Incompatible with some Android devices.
User Review: "Greenify works wonderfully, allowing me to get good screen on time on a 4-year-old phone."
Download Greenify.
6. Assistant for Android
Assistant for Android is a versatile Android phone repair app that offers a range of features for enhancing Android device performance. It can clean system cache and junk files, monitor CPU/RAM/ROM/SD card and battery status, install/uninstall apps, and back up and restore apps.
Pros:
All-in-one app for managing Android devices and clearing cache.
Effective at optimizing Android device performance.
Simple interface.
Cons:
Cannot resolve Android system problems.
Outdated user interface.
Recent versions may encounter errors.
User Review: "Quick Boost restores performance to my older phone when it gets bogged down."
Download Assistant for Android.
7. All-in-One Toolbox
True to its name, All-in-One Toolbox offers a suite of tools to manage and optimize your Android device. It enables you to clean junk files, boost device speed with a single tap, optimize memory and battery, cool down CPU temperature, manage apps and files, and more.
Pros:
Smooth performance on most Android devices.
Intuitive interface for easy task management.
Cons:
User Review: "I have been using this toolbox pro for the last 5 years on a few Android devices without any glitches. A toolbox doing what it is designed to do."
Download All-in-One Toolbox.
8. Booster for Android: Optimizer & Cache Cleaner
When your Android device is sluggish or experiencing rapid battery drain, Booster for Android can be a solution. This phone repair app aims to extend your device's life by clearing cache, optimizing memory, and improving battery performance.
Pros:
Improves Android device speed.
Easy to use and efficient.
Cons:
The pro version is relatively expensive.
User Review: "This app does everything you need to keep your phone optimized. I highly recommend it."
Download Booster for Android.
9. WiFi Analyzer
WiFi connection issues are common on Android devices. WiFi Analyzer is a troubleshooting software that displays WiFi signal strength at different points in your house. It provides valuable information to help you understand and resolve WiFi problems.
Pros:
Assists in finding the best WiFi channel and location for your network.
Cons:
May have a confusing interface for some users.
Contains ads.
User Review: "Very nice program that analyzes signal strength from each of my mesh routers."
Download WiFi Analyzer.
Conclusion
With these Android phone repair software tools at your disposal, you can breathe new life into your Android device. Each of these apps offers unique features and benefits. Among them, Android Repair stands out as a highly recommended choice due to its efficiency, security, and user-friendly interface. You can download this Android phone repair software for PC free of charge and give it a try.
Rejuvenate your Android device and bid farewell to common issues that may have been causing frustration. These Android repair tools are designed to make your device run smoother and more efficiently. Choose the one that best suits your needs and experience the difference in your Android device's performance.
Please let me know if you need any further information or assistance.